Institute for Professional Advancement
Certifications and Workshops for Manufacturers' Representatives & Sales Professionals
Become a Recognized Expert
The Institute for Professional Advancement (IPA) is the delivering body of programs developed by the Manufacturers' Representatives Educational Research Foundation (MRERF). For programs such as the Certified Professional Manufacturers Representative (CPMR) or the Certified Professional Sales Consultant (CPSC), IPA certifies the individual has completed the course of study and successfully exhibited the necessary skills through examinations to receive the certification.
Individuals that earn the CPMR or CPSC certification are required to recertify their designation(s) annually. This includes payment of dues and report continuing education activities to IPA.
Learn New Skills & Knowledge
Shows Commitment to Professional Development
Validates Skills & Capabilities
Sets You Apart from Competitors
Elevates Your Commitment to Your Profession
IPA Certifications and Workshops
Certified Professional Manufacturers' Representative
The CPMR designee has demonstrated organizational management skills by completing the demanding, three-year certification program while still maintaining day-to-day business. CPMR graduates subscribe to the stringent requirements of their common Code of Ethics, thus safeguarding the integrity of their firm and the factories they represent.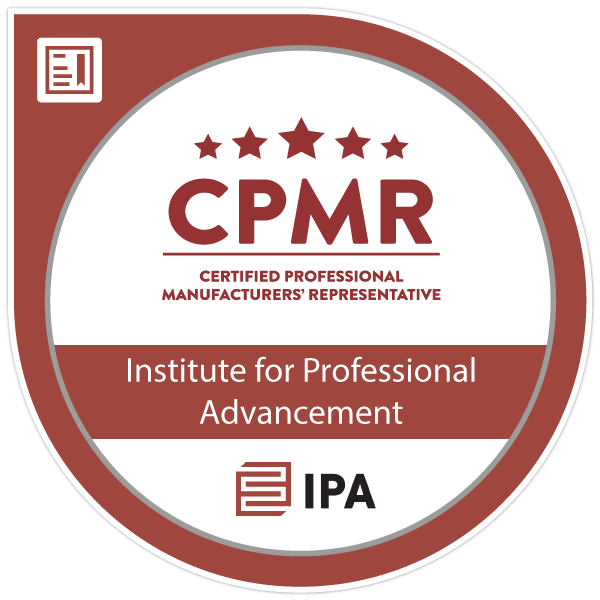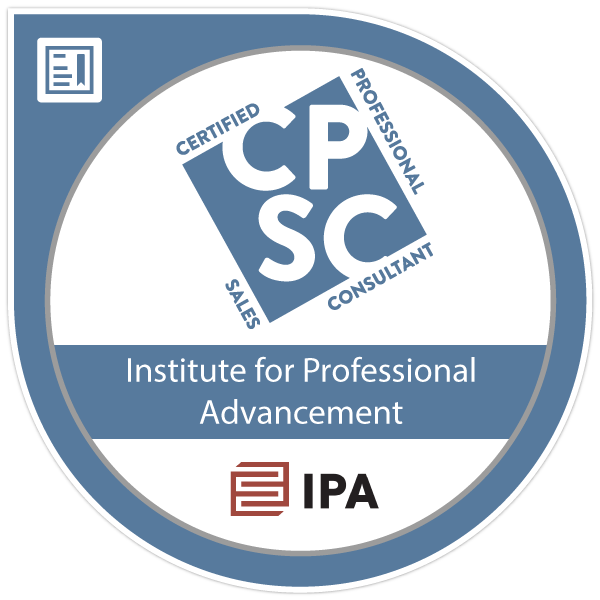 Certified Professional Sales Consultant
During this training, you'll learn how to become your customer's business partner and strengthen your key account relationships to increase sales. In today's highly competitive and ever-changing marketplace, buyers expect more from you – more information, more expertise, and more professionalism. They demand value not only in your products and services but in your relationship with them as well.
During this worksop, sales leaders learn various strategies such as selecting the right reps for the business, leveraging reps to meet strategic plans, and how to align with your reps, so your business becomes top of mind. In short, the Grow Sales with Reps workshop gives you the tools and processes you need to create strategic partnerships with your reps, so you can increase your sales.
What is IPA?
Although we do enjoy a tasty beverage, IPA stands for the Institute of Professional Advancement (IPA). IPA is the delivering entity for the Manufacturers' Representatives Educational Research Foundation.
Why get certified?
Many of our alumni chose to get certified to demonstrate competence and set themselves apart from their competitors. IPA certifications also help you learn and validate your skills and capabilities, gain credibility with customers, and elevate your commitment to your profession. Learn more about IPA professional designations
HERE
.
What is MRERF?
MRERF, or as we like to say amongst ourselves Mr. ERF, is the Manufacturers' Representatives Educational Research Foundation. MRERF delivers world-class certification training for sales professionals and manufacturers' representatives.  
Will I need to recertify?
Recertification does not require additional training, but our alumni are required to stay in good standing and submit annual CEUs to maintain certification.