Certified Professional Manufacturers' Representative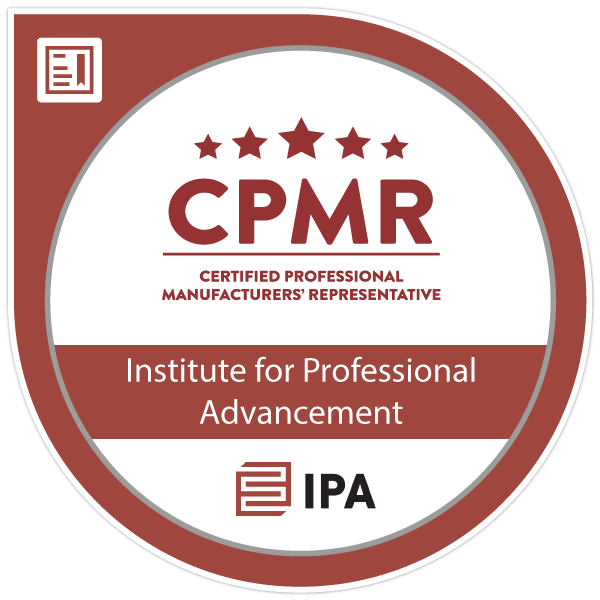 Join Other World-Class Certified Professional Manufacturers' Representatives
HR: Succession & Disaster Planning
Firm Valuation for Buy/Sell/Merge
Capstone Case Study Project
Three-Part Certification Program
Held annually in January at the AT&T Executive Education and Conference Center on the University of Texas – Austin campus
Next Session:  Jan. 7 – 12, 2024
Program is planned for in-person at this time.
101
Your first year of the CPMR Journey. You'll meet your cohort study group, who will work with you throughout the three-year certification program. 101s learn foundational business management skills.
201
Having passed the 101 written exam, year two participants of the CPMR program work with their cohort on a strategic case study to apply learning from their 101 and 201 strategy sessions.
301
In the final year, you will combine your experiences from 101 and 201 to develop and present a strategic capstone project, take and pass a written exam to earn your CPMR designation.
401 - CPMR Alumni
Alumni are invited to come back to CPMR to audit sessions that may be relevant or new to them. To learn more, click here.  
Non-association Member $2,295
Association Member $1,995
Non-association Member $695
MORNING SESSIONS
101
Business Ethics
201
Coaching & Leadership
301
Case Study Presentations
AFTERNOON SESSIONS
101
Technology Solution Analysis
201
Motivational Compensation for Outside Sales
301
Change Management
MORNING SESSIONS
101
Legal Issues
201
Contracts & Sales Rep Agencies
301
Social Media for the Rep
AFTERNOON SESSIONS
101
Intro to Strategy
201
Line & Portfolio Profitability Analysis
301
New Content Coming
MORNING SESSIONS
101
Financial Foundations
201
Branding, Mission, Vision
301
Strategy 301
AFTERNOON SESSIONS
101
Understanding the Manufacturer
201
Strategy 201
301
Succession Planning
MORNING SESSIONS
101
Workforce of Today
201
Principal Relationships
301
Valuing the Firm: Buy/Sell/Merge
AFTERNOON SESSIONS
101
Sales Comunication and Resources
201
HR Issues for Reps
301
CPMR 301 Wrap & Written Exams
MORNING SESSIONS
101
CPMR Written Exams
201
CPMR Written Exams
*Schedule & Curriculum Subject to Change
Jan. 7 – 12, incl. Monday reception
First-time CPMR registrants
Orientation Sunday evening (6pm)
Strategy 201 Eve. Session
Attend Reg. Sessions + 401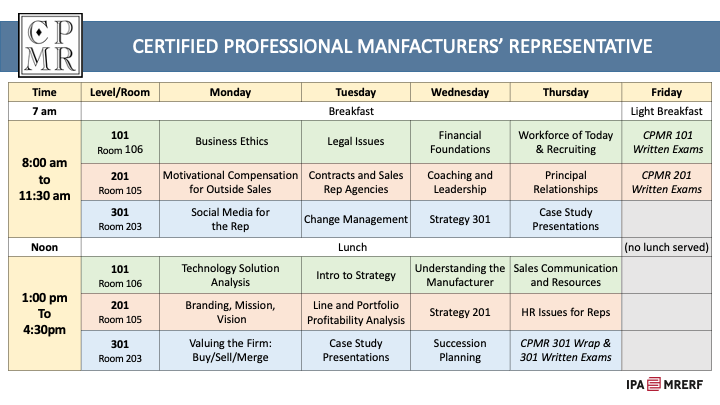 Program schedule, maps of AT&T Executive Education Center as well as group photo schedule (subject to change).