401 Event for CPMR Alumni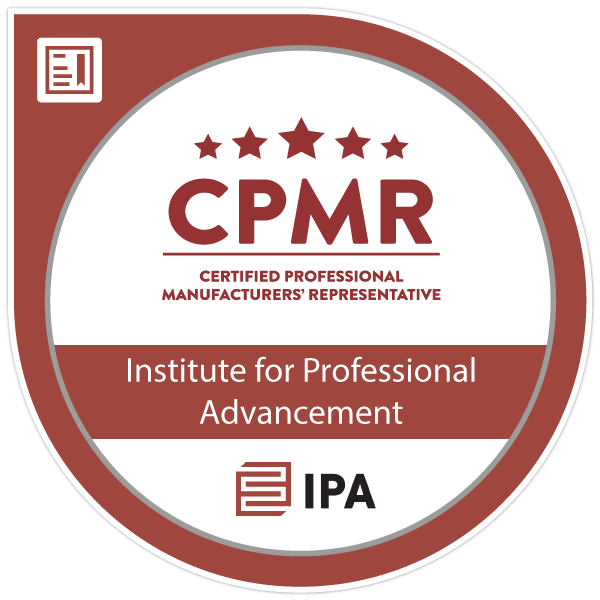 CPMR alumni are welcome to come and visit us during CPMR week.
The regularly scheduled sessions for each level will be available to you to audit. Details will be sent to 401 registrants regarding session limitations should enrollment numbers reduce open seats. Availability is enrollment dependent.
Location:  AT&T Executive Education & Conference Center on the Univ. of Texas – Austin campus
Dates: Jan. 7 – 12, 2024
Educational programming starts Mon., Jan. 8th at 8am and concludes Thurs., Jan. 11th afternoon 4:30pm (approximately). All times are CST.
Come for some or all of CPMR week. 
Program is fully in-person at this time.
Non-association Member $695
MORNING SESSIONS
101
Business Ethics
201
Coaching & Leadership
301
Case Study Presentations
AFTERNOON SESSIONS
101
Technology Solution Analysis
201
Motivational Compensation for Outside Sales
301
Change Management
MORNING SESSIONS
101
Legal Issues
201
Contracts & Sales Rep Agencies
301
Social Media for the Rep
AFTERNOON SESSIONS
101
Intro to Strategy
201
Line & Portfolio Profitability Analysis
301
New Content Coming
MORNING SESSIONS
101
Financial Foundations
201
Branding, Mission, Vision
301
Strategy 301
AFTERNOON SESSIONS
101
Understanding the Manufacturer
201
Strategy 201
301
Succession Planning
MORNING SESSIONS
101
Workforce of Today
201
Principal Relationships
301
Valuing the Firm: Buy/Sell/Merge
AFTERNOON SESSIONS
101
Sales Comunication and Resources
201
HR Issues for Reps
301
CPMR 301 Wrap & Written Exams
MORNING SESSIONS
101
CPMR Written Exams
201
CPMR Written Exams
*Schedule & Curriculum Subject to Change
2023 401 – 35th Anniversary of CPMR
Jan. 9 – 13, incl. Monday reception
Digital Access to CPMR materials
Breakfast, Lunch & Snack M-Th
CPMR Sessions count toward CEUs for renewal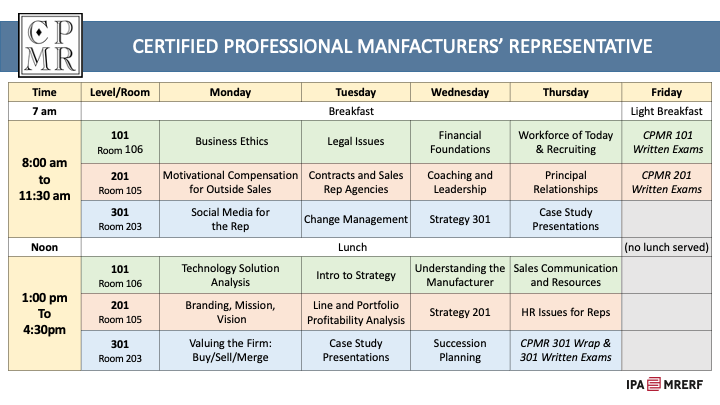 Program schedule, maps of AT&T Executive Education Center as well as group photo schedule (subject to change).