Certified Professional Sales Consultant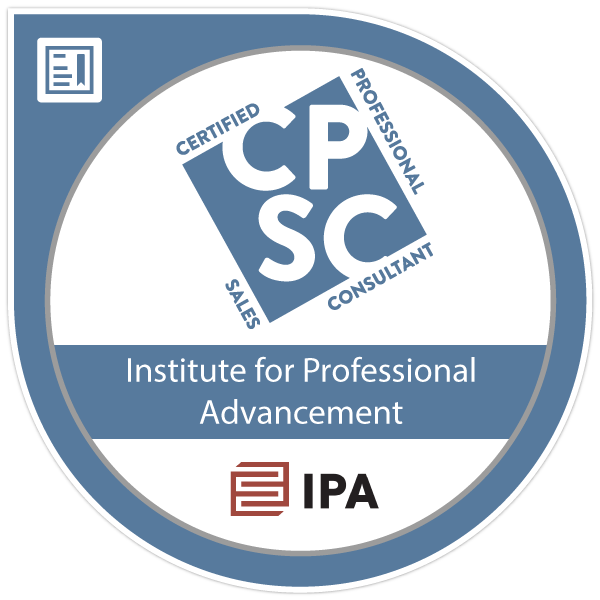 World-Class Sales Training
During this training, you'll learn how to become your customer's business partner and strengthen your key account relationships to increase sales. In today's highly competitive and ever-changing marketplace, buyers expect more from you – more information, more expertise and more professionalism. They demand value not only in your products and services, but in your relationship with them as well.
Learn your communication style
Prospecting and Lead Generation
Three-Part Certification Exam
*Cumulative 70% score required for certification
Consultative Sales Role Play
CPSC Course Content Highlights
Sales DNA - Framework for Success in Sales
Sales Planning Reinvented
Prospecting & Lead Generation
Module One
The History and Future of Sales  
Module Two
A Framework for Success in Sales  
Module Three
Communication  
Module Four
Compliance Theory  
Module Five
Ethics  
Module Six
Self-Awareness  
Module Seven
Business Acumen  
Module Eight
Planning and Goal Setting  
Module Nine
Prospecting and Lead Generation  
Module Ten
Consultative Selling  
Module Eleven
Presentations  
Module Twelve
Negotiations  
Registration Now Open for
In-Person Sales Training

Sign up for your desired date & location.

Attend, learn the skills & tools to become a better sales person.

Develop & apply the tools to grow your territory sales.
Non-association Member: $2,495
Association Member: $2,195
February 26 – March 1
Dallas, TX
(Plano/McKinney)
April 22 – 26
St. Louis Park, MN
(Minneapolis area)
June 24 – 28
Denver, CO
(Lower Downtown)
August 26 – 30
Virtual Offering
October 28 – November 1
San Diego, CA
 In-person training + certification exams
Arrive Sunday/Depart Friday PM
Mon. – Wed. Instruction
Thurs. & Fri. AM are Exam Days
*Virtual may be adjusted to 4 days to shorten each training day
Register for any of the sessions below:
New users – create a Certemy account to register via the 'Register' button
Returning users: scroll to
"Already have an account? Sign in"
What to Expect After You Enroll
Planning details for the week
Materials provided at the training
Pre-work sent before class
Want to know when additional CPSC classes are scheduled? Sign up for updates below.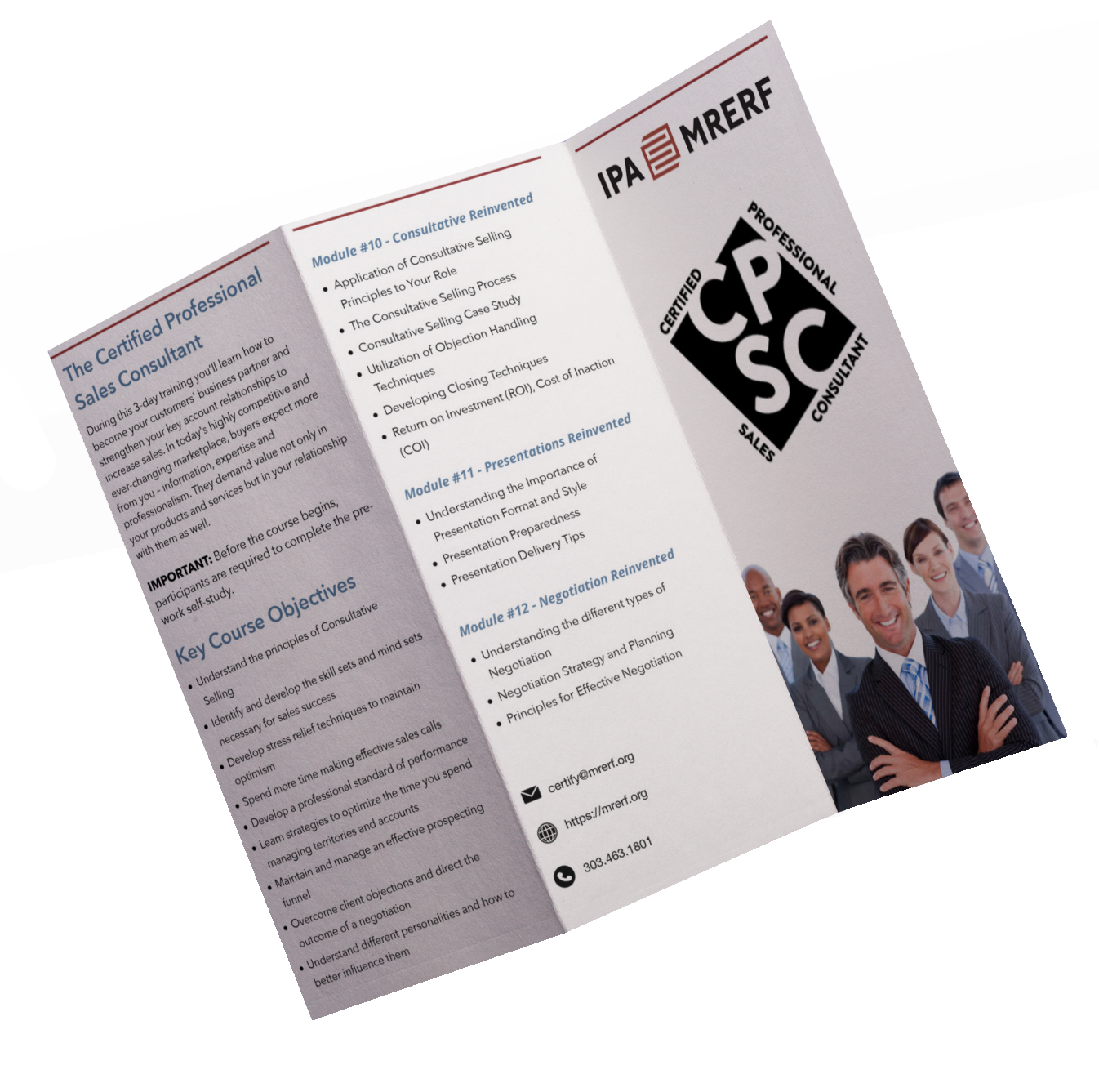 Get the latest details on the CPSC designation for yourself or someone on your team. The brochure includes information on the program objectives, the courses you'll take, and the overall certification process to become a certified professional sales consultant.